I was recently invited to be a speaker at Paris Développement, economic development agency financed by Paris City Hall, and a large number of active members. The conference was organized for foreign companies in France. More than 40 key foreign players came to the event and to listen to the three speakers about Being successful in Paris: Intercultural Management – How to bridge the gap with the French Business Model.
The conference was chaired by Mr Christian Sautter, Vice-Mayor of Paris in charge of Employment, Economic Development and International Attractiveness, and President of Paris Développement.
My topic was: Working with the French – feedback from the field. The text below is the written and corrected version of the audio recording. The duration of the presentation was 20 minutes.

* * *
Good morning, my name is Benjamin Pelletier. I am French, so you can expect that I will deliver a very "sophisticated, brilliant and elegant" speech but with "a lot of uncertainty" [some of the cultural traits about the French explained by the previous speaker]…
I am a trainer in cross-cultural management. Long time ago I was myself expatriate, twice in Saudi Arabia, once in South Korea. So I started to deliver these trainings almost six years ago for French companies – and also foreign companies working with the French.
First I would like to share with you few stories, four exactly.
First story – The "suspicious" compliment
First one is about my first training session six years ago. It was about Spain. I was training a French team because they had a new manager from Spain, who had arrived in France two weeks before. All were based in Toulouse, South West of France.
And during the break at the lunchtime, the French came to me and they said: "We have a problem with our manager." I asked what was their problem:
"Last week he sent us an email, to the whole team. And in this email he was so positive! He explained that he was so happy to join us, to be our manager, he was so happy to work with us! And he made so many compliments to the team! This email was full of very positive feedback from this Spanish manager!"
Well, I said to the French: "What's wrong with that?"
They said: "Don't you think it's suspicious? Why is he so positive?"
It was my first surprise, my first cultural shock as trainer of cross-cultural management. Because I asked these French: "You didn't think for one second that maybe this guy was honest, frank, sincere, he was really positive?" They said to me: "No…" Because in France when we receive a positive feedback – this comes from the time when we were pupils and students at school and university – we are always waiting for the little "but…": "You did a great work, you did a great job, it was wonderful, very nice BUT…"
And so, when you, as foreigners, give us some positive feedback or a compliment, we are waiting for the criticisms hidden behind. And one of the mistakes of this Spanish manager was to provide this positive feedback too quickly, after only one week. He should have waited a much longer time. Otherwise we distrust this positive feedback.
This was quite interesting experience because I noticed that we the French are not quick at expressing positive feelings to others, but much quicker at expressing the negative. The other cultures do exactly the contrary: they express much more the positive, and much less the negative. This is quite challenging when we have to work together.
Second story – The "Why?" question
The second one is a personal feedback from many training sessions. During these sessions within companies, I give some exercises, and sometimes the same exercises with foreigners or French. For example, I give an exercise to British in UK or Koreans in South Korea. I noticed that they take the exercise, they read the instructions and they start to work.
And then I give exactly the same exercise to the French. I ask them to do the exercise during the training session. Most of the time you can be sure that someone will raise the hand and ask: "Why? Why should I do this exercise? Why did you write this or that?"
It's quite a difference from the foreigners: I have to convince the French, I must explain, if I want them to be committed to the exercise. Otherwise they won't do it. It's a strange difference, isn't it?
I wanted to share these two stories just to tell you that when we have to work with foreigners, we have to think about our cultural strengths, and also our cultural weaknesses. I should ask myself what are my cultural strength and weaknesses, when I have to work with Indians, with Chinese, with Koreans, with Americans, and so on. It's not an easy question.

Third story – The French Taboo
The third story is about an US expatriate in France. She is American and she came to France to join an insurance company in Paris. After only one week, she made a mistake with her French colleagues. She asked them: "What is your salary? Did you receive a bonus last year?" And that was over, for the three years of her mission in France: there was a lack of cooperation with her.
Why? Because asking about money and salary with French is a taboo, a huge mistake.
Fourth story – You Only Live Twice

The last one is about a Korean HR director working for a Korean company in France. When he is recruiting some French employees, the first question he asks the French during the interview is: "Are you ready to DIE for our company?" And he is very serious, it's not a joke. This question is quite disturbing, even shocking for the French: "Are you crazy or what???"
This Korean HR director is importing some typical Korean management practices in France, and it's not working.
So this is the second lesson from these stories. You, as foreigners, as Indian, Chinese, Dutch and so on, you should ask yourselves what are your cultural strengths, and also your cultural weaknesses when you work with the French.
Understanding the French mentality
When you work with the French, you need to understand the French mentality. And it's exactly the same challenge as understanding the Chinese or the Saudis. I advise you to understand very well the education system of the country concerned. This will give you information about the mentality of the people which has an influence on the management culture.
So when I think about myself and how I was educated. I can realize that I am raised and educated:
to develop independence,

to express personal ideas and to defend my ideas when attacked by others (we are used to these intellectual fights),

to rely on myself only, to take part in intellectual competition,

to say 'no' when I mean 'no' (whereas most of cultures in the world they don't say 'no': even if they think 'no', they say 'yes').
There is a positive side of this education. I could develop, autonomy, creativity, critical thinking. But there is also a negative side: poor team spirit, taste for personal power, tendency to feel superior, difficulty to be and to feel subordinate when I have a manager.
What could be the consequences on management? Let's see some statistics. When we ask employees from different countries: Do you agree or not with this statement:
"Hierarchy means someone has power on someone."

45% of French managers agree with this statement…

…but only 18% of US managers.
You can imagine the consequence on the way you define what is a good manager. Is it a question of personal power or leadership? Let's see another statistic:
52% of French employees find unacceptable that their manager forgets to say good morning…

…and only 19 % of American employees.
Sometimes, when there is a US manager in France, we may find him rude, aggressive, too direct because there is a lack of sociability when we start the work in the morning. But in fact, he is not rude, just… American. And so the French will judge him and it will be the start of the misunderstandings and problems of cooperation.
"First of all , my company expects of me: autonomy."

36% of French employees agree with this statement…

…but only 8% of British employees…

…6% of US employees…

…and 4% of German employees.
"First of all, my company expects of me: team spirit."

46% of US and British employees agree with this statement…

…and 42% of German employees…

but only 26% of French employees.
The consequence may be a conflict between French and foreigners. From a French point of view, we expect first autonomy then team spirit, and the contrary in many countries: first team spirit, then autonomy, which can lead to some misunderstandings.
"It is important for a manager to have in hand precise answers to most of the questions that subordinates may raise about their work."

13% of US managers agree with this statement…

30% of British managers…

…and 59% of French managers.
So what is a good manager? A leader? An expert? You have to ask yourselves, this is an important question.
"I follow the instructions of my manager only if my reason is convinced."

21% of Danish employees agree with this statement…

…and 34% of British employees…

…and 57% of French employees.
If you give an instruction to French, don't forget to explain also at the same time why you give this instruction. If you don't, you will have a lack of cooperation from the French. It takes more time, it's sometimes exhausting, give some context and try to convince the French. Give some explanation because what you enjoy is to have a relationship between two intelligences, two ways of reasoning – but not between a superior and a subordinate.
If I summarize these feedback and statistics, you can notice that we find in France two pairs of notions. The first one is the importance of 'hierarchy' and also of 'sociability'. There is a high power distance, like Mr Coene [previous speaker] explained before and a need of social values (the ability to discuss topics not related to the job):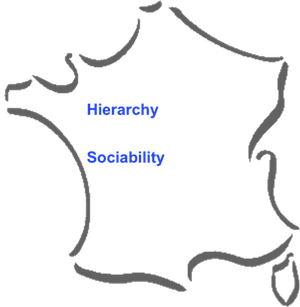 This pair of notions: hierarchy/sociability is similar in many countries: for example, countries in South Europe, South America, North Africa, Asia, and so on. That's why we can work very well together.
But there is another pair of notions in French management culture: autonomy/reason. These values match very well with cultures in North Europe, Germany, North America.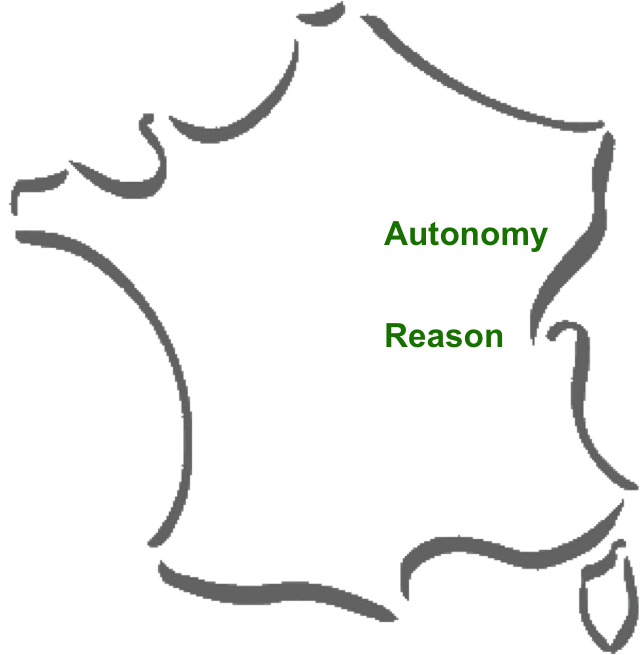 The conflict starts in fact when we mix these two pairs of notions. There is a kind of contradiction between a high level of hierarchy and the need for autonomy, between the importance of sociability and reasoning: the French may be very warm and very cold at the same time.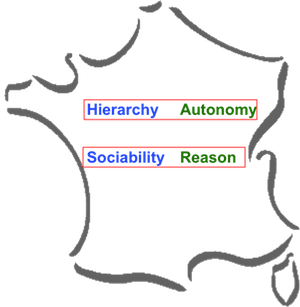 The problem increases when the French working with foreigners want to maintain all these values altogether, whereas each pair of values matches very well some cultures. But also – and it is very positive – we have an intellectual flexibility and we may be culturally more flexible than some other cultures where you find only one pair of notions.
At any rate, the French mentality is full of contradictions. I would like to share with you a final quote from a book of Philippe d'Iribarne, a French expert of cross-cultural studies. The book is called "The French strangeness" (right, click to enlarge). Philippe d'Iribarne studies French society and he writes that France is experiencing a constant contradiction "between the desire for greatness and the ideal of equality".
This contradiction is found in French society – and also in French management. Thank you for your kind attention.
Sources of the statistics:
French management : elitism in action, Jean-Louis Barsoux, Peter Lawrence
Survey BPI Group-L'Express, L'entreprise idéale, March 2012
Survey BPI Group, Institut du leadership, Le manager idéal, 2011

* * *
Quelques suggestions de lecture: